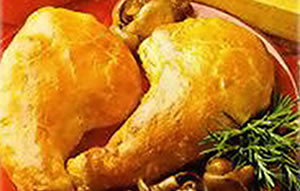 Ingredients:
4 large lamb cutlets
salt & pepper
15 g (.5 oz) butter
75 g (3 oz) mushrooms finely chopped
125 g (4 oz) chicken livers finely chopped
1 clove garlic crushed
1 tablespoon red wine
1 tablespoon chopped parsley
.25 teaspoon mixed dried herbs
1x368 g (13 oz) packet frozen puff pastry thawed
1 egg beaten
Method:
Season the lamb cutlets with salt & pepper. Cook under a preheated grill for 10 to 12 minutes until golden. Drain on kitchen paper; allow to cool.
Melt the butter in a pan, add the mushrooms, livers, garlic, wine, herbs, and salt & pepper to taste. Cook for 10 minutes, then increase the heat until the liquid has evaporated. Cool.
Roll out the pastry and cut into 15 cm (6 inch) squares. Place a little mushroom mixture in the middle of each square, place a cutlet on top and spread with the remaining mixture. Brush the pastry edges with egg, then wrap around each cutlet. Press the edges together to seal. Place on a baking sheet and brush with egg.
Bake in a preheated hot oven, 220 C (425 F), Gas Mark 7, for 15 to 20 minutes until golden. Serve immediately, garnished with mushrooms and rosemary.